Vernita Henderson
Before becoming a Habitat homeowner, Vernita lived in an apartment in Inglewood for 15 years.  She tried for many years to qualify for a home, but as a single woman the financial reality was that she couldn't afford one within Los Angeles County. Vernita has worked as a media buyer for an advertising agency for 14 years and is very involved at her church. She has always been active as a volunteer and for this reason looked forward to building her home alongside other volunteers and partner homeowners. Working on her sweat equity hours gave Vernita a sense of pride and confidence in her abilities to make her home a beautiful and safe place for many years to come.
Claudia Ortega

Claudia and her daughter, Samantha, lived in her mother's one bedroom apartment for more than six years before Claudia was introduced to Habitat for Humanity. As a single mother, Claudia always dreamt of being able to provide her daughter with a home.  Claudia has worked as an administrative service coordinator at a Special Needs Patients' Clinic in Los Angeles for more than 12 years. As a military veteran with a job, Claudia never thought she would end up under her mother's roof for such an extended period of time. After applying and being approved for a Habitat for Humanity home, Samantha moved to North Carolina to attend junior college but still comes home to visit her mother often.   Claudia says, "The American Dream has come true for me. My daughter is now a young adult, but I still wish to provide her with her own bedroom when she comes to visit me."  Claudia also looks forward to providing a home for her future grandchildren to visit and can't wait to plant a garden in her backyard.
Claudia Otis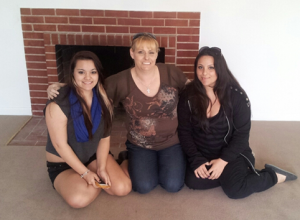 In 2002, Claudia Otis and her three children were living in a homeless shelter and Claudia made a  commitment to herself that she would one day own a home. She wanted to show her children that it is possible to overcome extreme challenges if you work hard. Claudia was blessed with a section 8 housing voucher and began attending school. While working full-time, Claudia has managed to obtain her GED, certification in substance abuse counseling, as well as her associate's and bachelor's degrees. She has also been accepted into a master's degree program in clinical psychology.
Claudia's three children have inherited their mother's work ethic. Jessica (16) works very hard in all of her classes, Amanda (19) enjoys Japanese language and culture and is a psychology major at California State University, Long Beach, and Matthew is attending East Los Angeles Occupational Center to learn graphic design. When not studying together, the family often volunteers to help the homeless. Ending  homelessness in America is a cause very close to their hearts.
Claudia enjoyed completing her sweat equity  hours and having a hand in making her dream of    homeownership come true. "Being a homeowner means everything to me and this journey has  allowed me to teach my children that with integrity and hard work anything is possible."
The Peralta Family
"The kitchen will be a very special place in my new home," says Martha Peralta. She has always dreamed of owning her own home and having a place where her daughters can gather to  create long lasting memories. Martha lives with her two adult daughters, Nallely (23) and Anahi (20). The hardworking single mother has worked as a teacher's assistant for the Los Angeles Unified School District for more than 14 years. Martha has always stressed the importance of education to her daughters. To her joy, both are currently biology majors in college. Nallely hopes to pursue a career that involves  taking care of animals. Anahi spends her free time taking art classes and participating in a leadership program called "Girls    Today, Women Tomorrow." In addition to their studies, both girls play on a local soccer team. Martha feels very blessed for the opportunity Habitat has provided her family and enjoyed working alongside staff, volunteers and other partner homeowners on the  construction of her home and  others.
The Royce Family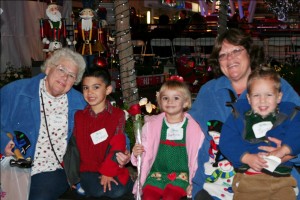 Candy and her mother Dawn worked together as foster parents for many years.  A few years ago, they were faced with a difficult decision.  Three of the foster children living with them, whom Candy had raised from infancy, were faced with going into the foster system once again as they could not be placed back with their biological parents.  Determined not to allow this to happen, Candy and Dawn decided to adopt Baetina, Jaden and Jaxon.   Candy's dream to raise her children in a nice home is what led her to Habitat.  Candy has been a childcare provider for a school in the South Bay since 2007 and Dawn is retired from many years working as a machinist. Baetina loves going to school and playing with her friends while Jaden and Jaxon work on puzzles and build legos together. Candy and Dawn demonstrate a true willingness to help others before themselves and moved into their home in December of 2011.