Serving Together in Ministry
Habitat for Humanity is an ecumenical Christian ministry built on the biblical principles of obeying God, loving one another and caring for the poor.  Habitat and the faith community are natural partners in this hands-on ministry, where people are given an opportunity to put their faith into action and see a tangible result.
Habitat for Humanity of Greater Los Angeles (Habitat LA) values our Faith Partners
People of faith hear a calling to reach out to those in need and change the world.  We offer them that opportunity.  Together we embrace our shared calling to make a difference in the world.  We accomplish this by partnering with others and building homes and hope.  The Habitat LA ministry allows congregations the opportunity to  follow Christ's teachings by serving those in need.  Each home built by Habitat LA is a testimony to the love of God.
2014 Lent Build
Join us for our annual Lent Build 2014: 40 Days of Building on Faith! March 5th through April 19th we will help build and repair homes for those in need across greater Los Angeles. Weekday group build days are available for $500 and Saturdays for $2,500. ! For more information, please contact Chris Untiet at 424-246-3622 or at chrisu@habitatla.org.
Interfaith Building Initiative
Habitat LA is thrilled to be partnering with Habitat for Humanity International and Habitat affiliates in Atlanta, Denver, Grand Rapids, New York City, and Seattle in 2012-2013 to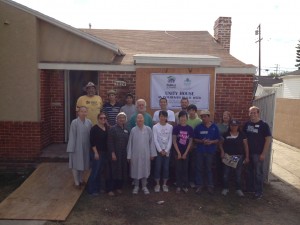 promote an interfaith building initiative.  We will help different faith and spiritual traditions together to build and renovate homes and educate and advocate on behalf of the thousands in need of decent and affordable homes right here in greater Los Angeles.  Habitat LA held an interfaith build week November 14-17 to help kick off the interfaith initiative.  For more information and coverage of the event, check out the links below.
http://www.examiner.com/article/the-house-that-interfaith-built
http://habitatla.org/local-faith-communities-unite-for-inaugural-interfaith-build-week-with-habitat-for-humanity-of-greater-los-angeles/
http://www.the-tidings.com/index.php/features/san-pedro/2961-making-home-owner-dreams-come-true-in-south-la
http://www.examiner.com/article/a-home-of-their-own?cid=db_articles